Women in Aviation Industry
Post date: 17 January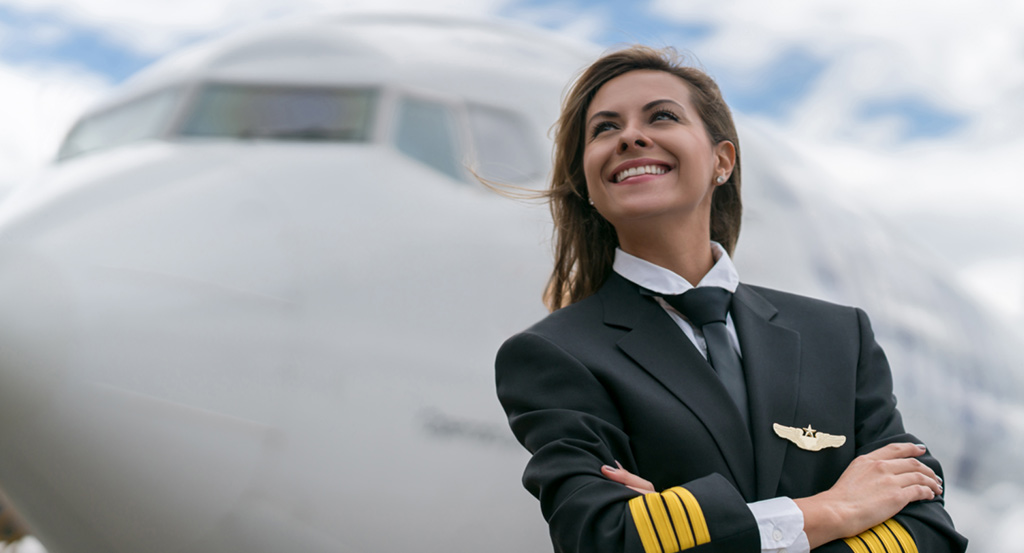 Women in Aviation Industry
Diversity and inclusiveness are fast becoming the focus for workforces around the world, but one of the major industries lacking in this area is aviation. As there is a real need for innovation and meeting the needs of one of the widest consumer bases globally, it can be imperative for airlines to take some significant action. With this in mind, we're going to take an in-depth look at women in aviation and how things are shaping up for the future.
It's no secret that commercial airline pilots are predominantly white and male and with factors like industry growth and the predicted shortages for these roles reaching an all-time high, it's now more important than ever for airlines to begin reaching out to a wider demographic. While female pilots have grown in popularity recently, there are still less than 10% in the industry in total. Even though there have been some influential female names across the decades, this is still a niche that is struggling to find its foothold in a host of areas.
While the career path to becoming a pilot is no different for women in terms of selecting the right courses at flight schools and moving into the industry, significant adjustments are being made in other areas of aviation to help support women. For example, in the last few years, female cabin crew have been given time off from their positions to take up flight training courses. This means that there is now the option for women to advance their careers in a whole new way. Couple this with the fact that flight schools like Egnatia Aviation are stepping into the fray to make high-quality education more affordable, and you'll see that more and more women who have the dream of becoming a pilot have the resources they need at their disposal.
Women pilots in history at a glance
When looking back at the first two decades of actual flights, it was female pilots that were breaking speed and altitude records and taking countless trophies against their male counterparts in air races. Then, in World War II, it was female pilots that flew in auxiliary services to help with the war efforts (they were restricted from military flights, however). It wasn't really until the 1950/60s that women felt a restriction in the industry – when female roles were more geared towards flight simulation and flight attendance.
While names like Amelia Earhart (who started her journey in 1932 and earned the American Distinguished Flying Cross during her career) and Bessie Coleman (who was the first African-American female to become a licensed pilot in 1921), certainly paved the way for women in the niche, it's only now that more modern women are stepping into role-model shoes. One such pilot is Elina Skarpeta, who studied right here at Egnatia Aviation. She says:
"Studying at Egnatia equipped me with the fundamental skills and attitude required to work in the aviation industry. The experienced instructors and the advanced aircraft were an integral part of preparing me for a career as a professional pilot. The meticulous standards to which they maintain their aircraft, as well as the well-equipped classrooms and facilities created an excellent training environment. I take the skills and experience that I gained during my time at Egnatia with me every day I go to work, making me a more competent and well-rounded pilot."
As flight academies are working hard to provide extensive, yet affordable training to aspiring pilots of all genders and nationalities, the facilities are now more accessible and inclusive to accommodate this initiative.
What challenges do women in aviation and specifically female airline pilots face?
The top challenges for women in this industry are discrimination and the overall lack of representation, but there does seem to be some progress in European and Middle Eastern countries. For example, in 2021, India was leading the way for female pilots with around 12.4% of all pilots employed being women. At the same time, this number was only 4.7% in the UK (you can find out more here).
The aviation sector still has one of the poorest gender balances overall, and the International Air Transport Association (IATA) reports that the proportion of women holding C-level roles in the industry is just 3%. With the general sentiment being that women's interests and capabilities simply don't align with the skills needed to become a pilot, the sad truth is that for many, outdated gender stereotypes are still having an impact on women's career progression, despite the growing number of female representatives in similar skill fields.
How women are shaping the future of the aviation industry
Right now, the association Women in Aviation International has been taking steps to not only encourage women to take up positions in the aviation industry but also to be more proactive in their efforts. With a host of scholarship packages, support and information for a host of industry sectors, women are empowering women in these very male-driven spaces. The good news is that flight schools are having more and more of an impact on the airline industry too, and are also beginning to change the way they target female trainee pilots. With an array of courses and incentives (like job placement), Egnatia is beginning to widen the reach and interest for a more female-centric landscape.
The importance of promoting diversity and inclusion in aviation
In a more general sense, the aviation industry is one of the biggest areas where relying on consumer sentiment and innovation is going to be pivotal in the coming years. Advancements in tech are already beginning to rule out a large portion of the industry alums, older white males, and as many are now beginning to reach retirement age, the threat of shortage is very much real. This is the perfect time to integrate younger, more diverse demographics into the fold, as this can help to bring fresh new perspectives where many are simply becoming outdated. Airlines that promote female pilots are already seeing an increase in customer connections, safety and profitability – and this will only continue to improve in the future.
Now, major airlines are starting to implement special programs that are geared towards recruiting women in particular and these are showing some very positive results. For example, United Airlines holds an annual global Girls in Aviation Day and offers scholarships through the Women in Aviation organisation (mentioned earlier). EasyJet on the other hand created the Amy Johnson Initiative in 2015 in a bid to have at least 20% of pilots on the payroll as women and this has been achieved by employing 50 new female pilots a year.
The good news is that as female pilots are being held in higher regard, there are more and more opportunities opening up in this prestigious sector. When it comes to choosing the right flight school, Egnatia Aviation is working hard to make the impossible possible – to make the dreams of females from all over the world to become airline pilots true.